About CTC Heating and Cooling - An HVAC Contractor You Can Trust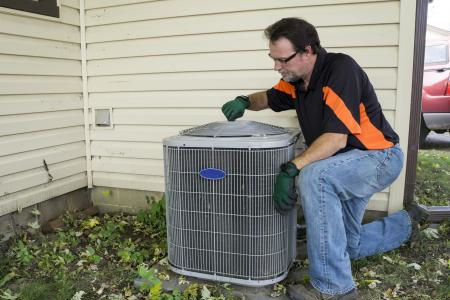 In today's economy, many businesses have a laser-like focus on improving their bottom line. Business owners forget what led them to their industry and instead only worry about how to keep earnings up. CTC Heating and Cooling doesn't believe thinking business first is the way to run a business.
CTC Heating and Cooling was built by the husband and wife team of Josh & Laura Campbell in 2008, ten years after Josh began his career in the heating and cooling industry. Their goal was to have a family business that treats their customers like family - not just an account. Their team would be made of well-trained technicians - not salespeople.
Although it can be easy to be lured into choosing a company whose name is plastered all over town and settle into a long-term contract, CTC Heating and Cooling offers a family-friendly alternative. We focus on getting you the service that you need, not what we think we can sell you. We'll never push unneeded products or services.
Not convinced to give CTC Heating and Cooling a chance to work with you? Unlike other heating & cooling companies, we won't pressure you into long-term contracts with us. Why? Because we know that when we treat customers like family, they'll keep coming back without the need to be locked into working with us. They'll want to come back again and again because our service is reliable, affordable, and friendly.
We offer a wide range of services including:
AC Installation
AC Maintenance
AC Repair
Air Duct Sealing
Heater Installation
Heater Maintenance
Heater Repair
New HVAC Installation
Sheet Metal Fabrication
Give us a chance to show you that we are the best heating repair service in Yorkville. No one should be left out in the cold. Whether you need regular or preventative maintenance or are ready for new heating installation, CTC Heating and Cooling is the company to call. We're also ready when things get too hot and can help with all of your cooling needs.
Don't get caught in a long-term relationship with a company you don't trust. Call 630-361-3681 for a free estimate from CTC Heating and Cooling for all of your heating and cooling needs in Yorkville today!