Commercial HVAC Professionals To Help Your Business Property's Comfort Systems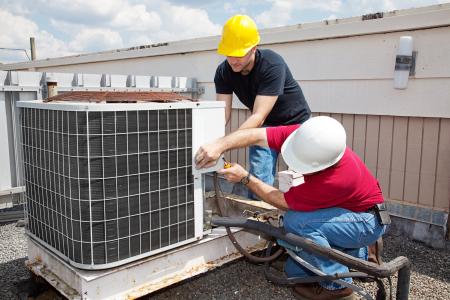 Are you looking for the secret to keeping employees happy and that will keep customers in the building? Control your building's climate with our commercial HVAC service in Yorkville. We can make your building comfortable no matter what it's like outside.
Whether your business is contained in a small shop or a sprawling warehouse, CTC Heating and Cooling's commercial HVAC services can help you with all of your heating and cooling needs. We offer all of the following services as part of our commercial HVAC program:
AC Installation
AC Maintenance
AC Repair
Heater Installation
Heater Maintenance
Heater Repair
Air Duct Sealing
Sheet Metal Fabrication
If your business needs an HVAC tune-up or if it's time to replace it, we're here for you. Plus, unlike many HVAC specialists, we only send technicians to consult with you - not salesmen. We've established ourselves with excellent heating repair services in the Yorkville area and are here to help your business.
Heating & Cooling For Businesses
Maintaining a desirable temperature for your business is essential to keep your employees content and productive. No one likes to work when they're shivering. They're also less likely to be productive if they feel like they're roasting.
When you call CTC Heating and Cooling, we come to your business to give you an honest assessment of your HVAC. We can help get your building back to the temperature you'd like with either maintenance, repairs, or in some cases recommending a new HVAC system. We work with your budget in mind and promise to look for the option that is economical and most likely to solve your problems for the foreseeable future.
Knowing When It's Time To Repair or Replace Your HVAC
If your building just can't seem to stay at a comfortable climate, our professional technicians will assess the most probable causes and provide you with solution options. Commercial HVAC technicians will determine if repairs are needed to get your system up and running efficiently again. In many cases, replacing a part can bring your HVAC back to life. Sometimes the problem stems from the ducts and not the HVAC itself. Our air duct sealing service can help prevent wasted air from your HVAC.
However, if your commercial HVAC is more than ten years old, it may be time to consider replacing it. Even with regular maintenance and upkeep, most HVAC systems have a life somewhere between ten and fifteen years. We can help you choose the right size HVAC to fit your needs for the future.
Call CTC Heating and Cooling at 630-361-3681 for reliable commercial HVAC service in Yorkville today.