The Top 6 Reasons You'll Love Upgrading Your Thermostat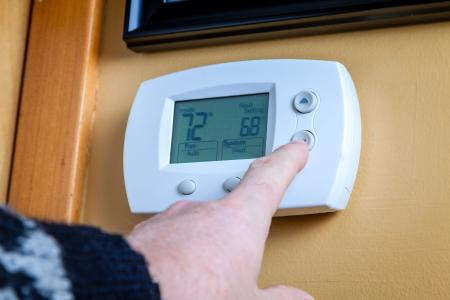 We live in a fast-paced and ever-changing world. Each day, new technological advances change the way we approach nearly every aspect of our lives. The controls of your HVAC are not immune to these changes, and for good reason.
Gone are the days of limited control of the temperature of your home or business. Most of us can remember the old manual dial, with the gold-colored ring surrounding it, which was very much a hands-on way to determine the climate. While a love for the simpler things in life can be alluring for vinyl or Polaroid cameras, these old dials won't make a comeback. Let's compare the old thermostats of yesteryear and today's models as part of our HVAC Products.
Why The Dial Was Doomed
The desire for efficiency was not what it is today when the dial thermostat was put into homes across the country decades ago. Homeowners were largely content to set the temperature for the house at one setting for the season and leave it there. The HVAC would work all day and night to maintain the same temperature - regardless of whether or anyone was home to enjoy the controlled climate or not. What a waste of energy!
The reason for the steady temperature was that no one wanted to wait for their home to get back to their ideal temperature when they returned from work if they tried to save money and energy by dialing it back as they left the house in the morning. In addition, the HVAC systems were less efficient and had to work much harder to get the house back to that ideal temperature. If anything, a drastic swing in climate control could necessitate ac or heating repairs.
Why New Thermostats Are Amazing
Thankfully, we have options today that give us more control. Before you bemoan the loss of the old way of doing things, check out these reasons to love your new thermostat.
Specialized controls. Many digital thermostats allow for creating different zones within a home, allowing for customized temperatures for each zone. No more fighting over who gets to pick one temperature for the whole house!
Prolong the life of your current HVAC. That's right, you don't have to get a new HVAC system to enjoy the benefits of a new thermostat. A newer thermostat can help an older system worker smarter, not harder, and give you more time before a replacement is needed.
Time saver. Stop making trips to the thermostat to adjust the climate throughout the day and evening. With just a brief setup, you can program your thermostat to match your needs to match your schedule.
Control from anywhere. Many of the thermostats on the market today have options to connect with your wifi. You'll be able to adjust and monitor your home or business's temperature even when you're on the go.
Save money. Once you've programmed your thermostat to make your HVAC work for only the times you'll be home to enjoy more precise climate control, you'll be blown away by the cost savings. Many homeowners report saving as much as 2% on their energy bills after changing to a new thermostat.
What questions do you have about replacing your outdated thermostat with a new and efficient model? Call 630-361-3681 to find out how you can avoid costly heating repair expenses and lower your energy bill thanks to a new thermostat installed by CTC Heating and Cooling. Call today for a free estimate.